Innovation to propel your organization forward
Aspire is a premier technology services firm specializing in the delivery of digital infrastructure solutions and managed services designed specifically to achieve your business goals. In today's digital world, we believe technology sits at the heart of every enterprise strategy. From creating more agile and efficient IT environments, to delivering differentiated customer experiences, we take time to understand your business initiatives and align technology solutions to drive the organization forward. Aspire's outcome-driven approach accelerates your journey by combining secure digital infrastructure, world-class design and implementation expertise, and managed services – all centered around transforming today's multi-cloud architectures into enablers of business value.
Managing your IT assets more efficiently
Aspire Managed Services are powered by VIGILENS™, our unique platform combining expertise, proven methodologies, and leading technologies to establish visibility across your entire IT infrastructure. Our team acts as an integrated strategic asset for your organization to ensure the performance, security, and on-going management of your business-critical assets. The result is a more efficient use of limited IT resources, freeing your team to focus on strategic initiatives.
A proven track record
For over fifteen years, Aspire has built a highly-regarded reputation as a valued solution provider. We've earned industry recognition and numerous awards for our leadership position in the markets we serve and our ability to execute. Clients value the subject matter expertise and broader perspective we bring to every technology initiative. Our years of experience and proven track record give clients confidence they've chosen the right partner to steer and achieve their digital transformation objectives.
Differentiated customer experience
Our company culture reflects a commitment to integrity, excellence, and responsiveness to your needs. We go beyond the norm. Aspire designs solutions that produce transformative experiences for your organization's users and customers. While doing so, we aim to provide you with an exceptional experience gained from working with our team. From project kick-off to solution handoff, we truly want every interaction with Aspire to be positive and impactful. We take pride in being a valued extension of your organization. A unique combination of industry-leading expertise, flexibility, and customer-first values are what sets Aspire apart. The result is a differentiated customer experience which cultivates strong long-term relationships with our clients.
Want to learn more? Schedule a call with a consultant today.
Blog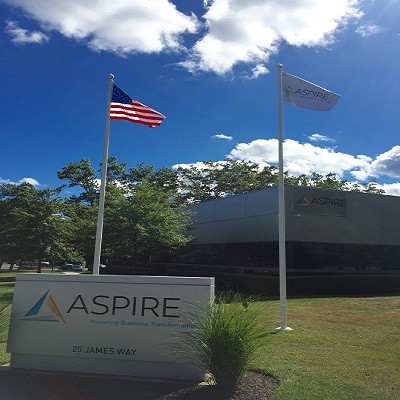 From a Humble Start to State-of-the-Art: Our New Headquarters
As we celebrate the opening of our new corporate headquarters and embark on a new chapter in Aspire's history, we[...]